12-week Oil Portrait and Landscape
Member: $210 (with member discount coupon) Non-member: $280
Mondays 7-9:30pm ET (Boston Time), April 4 - June 20, 2022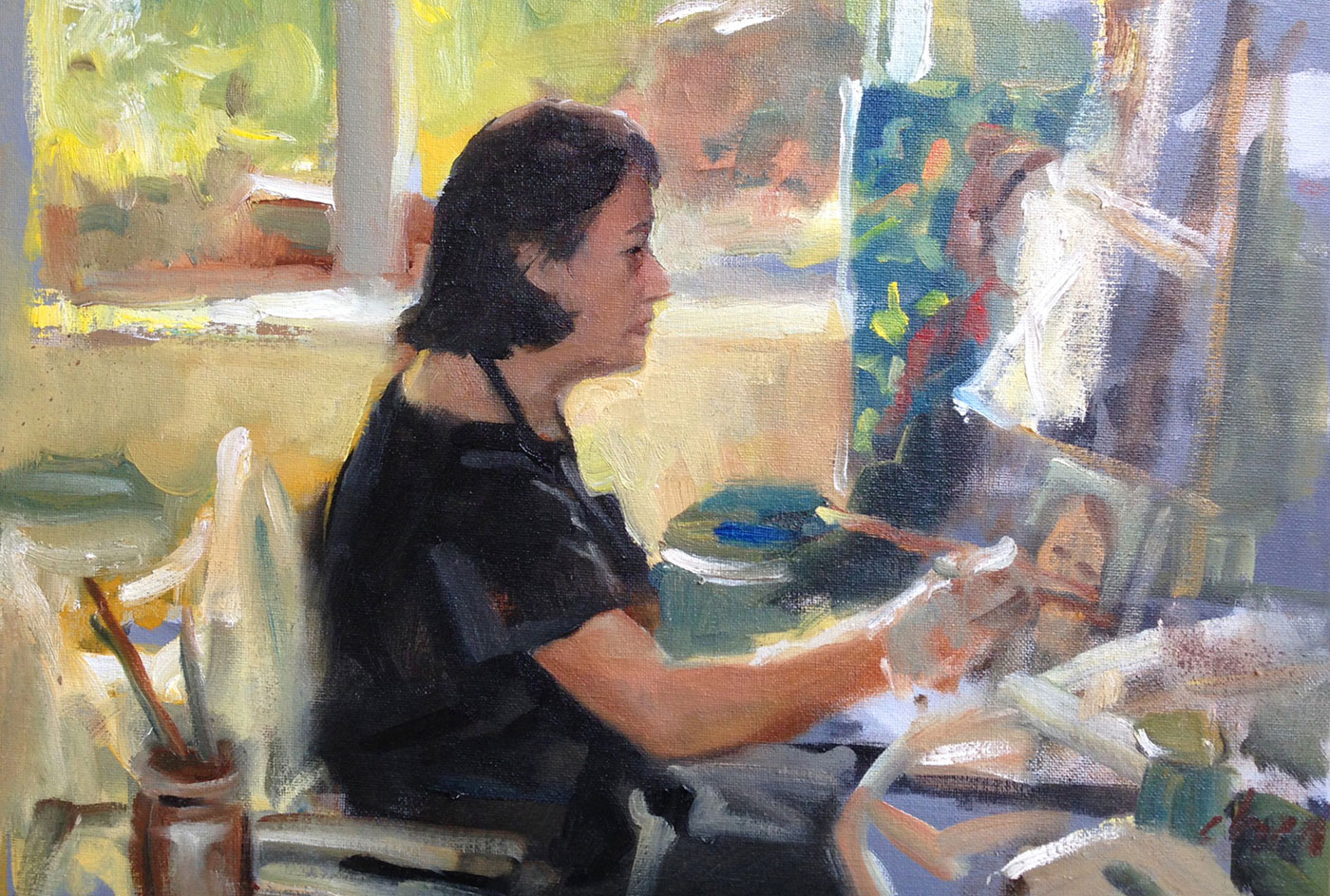 This oil painting learning program will include study of landscape painting and portrait painting, and the combination of these two subject matters. It requires that you have some fundamental drawing skills. This program is focused on the study of the art of oil painting, analyzing compositions and techniques by the old masters, and exploring how to blend what you learn with your own painting expression.
In this program you will have the experience similar to a remote college learning environment. There is a dedicated website which contains the weekly learning content, references, and homework suggestions. Each week, Yong will discuss the important details of the techniques and processes of drawing with demonstrations to answer all your questions. The weekly interactive classes will lead you through learning and practicing at your own pace, so you will experience productive and positive progress throughout the program. Through this learning program, you will gain further confidence with the oil painting medium. and achieve a deeper understanding of techniques and processes, readying you to take on more painting challenges.
If you have to miss a class, don't worry. The full videos of our Zoom class meetings will be uploaded to the class website for your easy review and learning.
When you have completed your homework assignment, upload it to the dedicated class review area. Class members are encouraged to give suggestions and technique reminders to each other. There will also be homework coaching sessions where Yong will give suggestions for individual improvement.
---
Suggesting materials for oil painting
If you live outside of the US, you can purchase the products on your Amazon or local art stores.
Gamsol
Gamblin Gamsol Odorless Mineral Spirits - 33.8 oz bottle (view)
Walnut Medium
M. Graham Walnut Alkyd Medium - Walnut Alkyd Medium, 4 oz bottle (view)
Brush Washer
Stainless Steel Airtight Brush Washer - 20 oz (view)
Gesso
Acrylic Gesso - White, Quart Jar (view)
Mixing Tray
Masterson Sta-Wet Palette Seal (view)
Paper Palette
Gray Matters Paper Palette - 12'' x 16'', Gray, 50 Sheets (view)
Oil Medium Container
Stainless Steel Small Single Palette Cup (view)
Painting surface:
Suggesting sizes: 8x10 to 12x16
Bristol paper or
Canvas panel or
Stretched canvas
Paints:
Tatanium White (view)
Winsor Yellow (view)
Winsor Red (view)
Alizarin Crimson (view)
Prussian Blue (view)
French Ultramarine (view)
Brushes:
Bristle Filbert, Long Handle, Size 10 (view)
Bristle Filbert, Long Handle, Size 1 (view)
White Bristle Fan Brush, Long Handle, Size 2 (view)
---
Scheduled class time is based on Boston, Massachusetts' time zone (EST). 

Classes will be held on Zoom. Both audio and camera are to be on during the class. Please be sure both are working.
Refunds will only be honored for email cancellation requests made 3 days (72 hours) in advance of the first class, using the email yongc@yongchen.com. Refunds will not be generated for any reason after this time. No refunds will be honored for no shows, forgetting, technical problems, etc. 
Screen shots containing images of class members or the professor may not be reproduced in any form, as it is against the law.
Recommended equipment for the Interactive learning experience: Adjustable Mounted Holder for iPad/phone
Permits easier communication between teacher and students, as issues can be observed in real time.
Allows easy viewing of your work station by the other students and the teacher
Effortlessly permits you to show your work during critique sessions
Frees your hands to display projects while working
Available from Amazon using this link: https://amzn.to/2DLIVHK